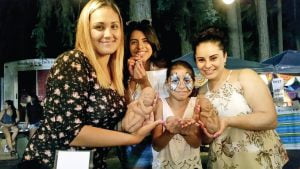 Oregon Right to Life launched its new Latino Outreach Program last year with the goal of reaching Oregon's Latino population with the pro-life message. ORTLEF reached over 25,000 people as we participated in the 54th annual Woodburn Fiesta Mexicana for the first time. The primarily Hispanic event confirmed the pro-life values of many and provided others thought-provoking educational information. Bilingual staff and volunteers shared the humanity of the unborn child through interactive models and a lot of questions and dialogue.
Vine and Dine
StandUpGirl.com Foundation supporters enjoyed the first annual Vine and Dine event on August 31 at Lady Hill Winery in St. Paul, Oregon. It was a beautiful evening for our supporters to get acquainted and fellowship with donors from cities around the state. Because of the generosity of Lady Hill's owners, Jerry and Elaine Owen, who hosted the venue and wine tasting, all proceeds from ticket sales and donations will go toward reaching over 43,000 young women with StandUpGirl's message of hope and courage. We look forward to you joining us for next year's event!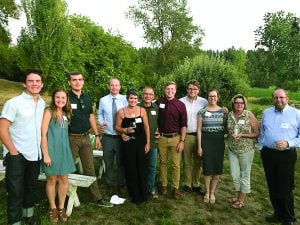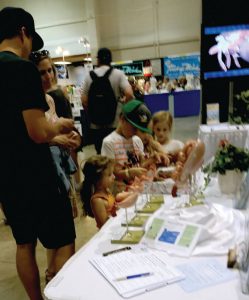 Oregon Right to Life's booth at the State Fair always attracts a lot of attention and compliments. Last year, almost 1 million people attended the Oregon State Fair, which is ranked fourth in the nation. This year's booth featured newly-created cards with child development information, abortion statistics, and healthcare options. Our focus is teaching the humanity of all pre-born life and many eyes were opened to that truth. Mothers used the fetal models to teach their children. Everyone loved touching the soft baby models, with adults commenting on how real the babies felt and children wanting to cuddle them. The phone that allows fairgoers a chance to hear a fetal heartbeat is always popular. At least one dozen self-identifying, post abortive women shared stories of their experience and their journeys on the road to healing.