UPDATE: While we were able to defeat SB 494, it was reintroduced and passed as HB 4135 the following legislative session and signed into law.
UPDATE: After passing out of the Senate, SB 494 was assigned to the House Judiciary Committee, which is closed for the remainder of this Legislative Session.  Please see our latest press release here.
Today, Senate Bill 494 passed out of the Senate by 17-13. All Senate Democrats voted for the bill except Senator Betsy Johnson.  All Republicans voted no except Senator Jeff Kruse.
The bill, which would allow surrogates the power to withhold food and hydration from mentally ill or dementia patients, is pushed by big insurance companies and others who appear to view mentally incapable patients as a burden.  Legislators who voted "yes" on the bill are denying its real-world consequences, which will endanger the lives of people with mental illness or dementia.
The lone Republican supporter, Senator Jeff Kruse, who has long been endorsed by Oregon Right to Life as being "pro-life," put an end to his pro-life ethic. He disregarded literally thousands of emails and phone calls from his own constituents, as well as detailed conversations with Oregon Right to Life lobbyists.
SB 494 now heads to the State House of Representatives.  You can rest assured that we will keep you up-to-date on the next steps for taking action.  We will not stop working against this bill as long as the legislature is in session. It is still possible to stop SB 494.  The Legislative session is constitutionally required to finish by July 10th, at which point any unpassed legislation will "die."
We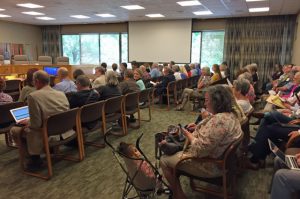 want to take a moment to thank the thousands of people who called or emailed their State Senators, even just in the last couple of days. Dozens of people (some from Eugene and Hillsboro) also drove to the State Capitol on Monday with barely any notice to speak out against SB 494 in committee (pictured).
We need to continue to stand strong for the protection of life over the next month.