After a fight with cancer, the pro-life movement lost one of its unsung heroes, Dr. Russell Sacco, this June. A father of four and grandfather to eight, he is also survived by Elizabeth, his loving wife of 58 years.
Dr. Sacco, a urologist who practiced in Oregon and one of the founding members of Oregon Right to Life, might not be familiar to you but his impact on the pro-life movement cannot be quantified. 
Oregon first legalized abortion in 1969 under Senate Bill 193. It was only a matter of time before the issue made it to the Supreme Court of the United States.
A long-time Catholic, Dr. Sacco was convinced in his pro-life beliefs but also was concerned about the lack of education he experienced in medical school about fetal development. He started researching the issue whenever he could, having discussions with colleagues along the way.
One afternoon in 1970, at a Portland hospital, he was visiting with a fellow pro-life Oregonian, a pathologist. The pathologist was responsible for destroying the bodies of babies following abortions. He didn't feel able to do this and had placed some of the bodies into formaldehyde. That day, he showed the remains to Dr. Sacco.
Dr. Sacco was shocked at first but realized this was an opportunity to redeem the short lives of those little humans. He consulted textbooks, determining the age of the babies, then photographed them.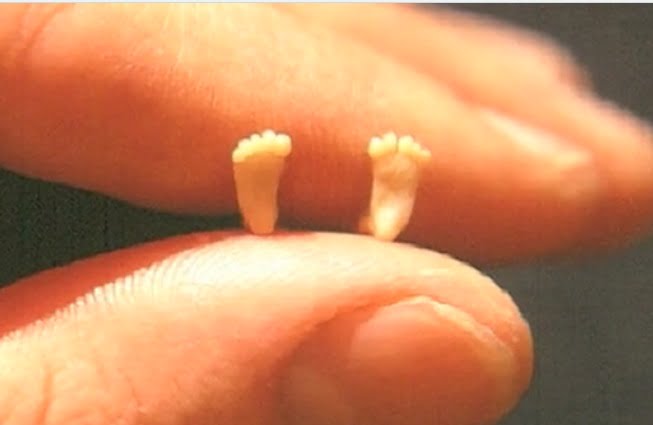 Struggling to show the scale of the babies' size in comparison to their development, he took one 10-week old baby in his hands, holding its feet between his forefinger and thumb.
"All of a sudden, I saw these tiny feet; these perfectly formed tiny feet, with little toes, little wrinkles and creases and I held them between my fingers and took the picture. I was crying because I felt so bad – it just really got to me," he said. "I really didn't think the photo would be anything, but God must have taken the picture because it was perfect, and I knew that this would be one powerful way to send a message to the world, as this unborn baby was only about 10 weeks along."
The babies' bodies remained with the pathologist but Dr. Sacco took their photos with him and shared them with many, spreading the humanity of other such tiny lives. One of the people he shared them with helped the photograph become famous.
Described by some as the father of the pro-life movement, Dr. John Willke founded Cincinnati Right to Life in 1970 and Life Issues Institute in 1991. In 1971, he was giving a talk to the California Pro-Life Council. Dr. Sacco was in attendance. Afterwards, he showed his pictures to Dr. Willke.
Dr. Willke also recognized that these images were incredible tools to help advocate for the lives of the unborn. He printed them in his book, "Handbook on Abortion," and in brochures and pamphlets.
Other pro-lifers followed suit, using the images. On January 22, 1974, Ellis and Virginia Evers opened their local newspaper, The San Diego Union, to see a full-page ad featuring the photo of the tiny feet. Inspired, Virginia carefully modeled the iconic "Precious Feet" pins.
When Dr. Sacco saw the pin, he was impressed by the accuracy of the design.
"They did it perfectly and designed it to match the size of the tiny feet I held, and was made of metal," he said. "I was so surprised that this happened and very pleased. I am told that these pins and this picture have helped save lives and that makes me happy."
The Precious Feet design was elected the International Pro-Life Symbol at a symposium in Ireland in 1979. To date, more than 20 million Precious Feet pins have been distributed worldwide.
Dr. Sacco always was convinced that if people knew what the unborn looked like, they would reconsider their position on abortion. He took those photos hoping to counterbalance the narrative that they were nothing more than "blobs of protoplasm."
"We owe so much to Dr. Sacco," says Lois Anderson, ORTL executive director. "He was a faithful, humble advocate for the vulnerable and will be deeply missed."
With the help of Dr. Willke and the Evers, he did counterbalance the narrative. Countless babies have been saved, many we know about and many more we don't.
Requiescat in peace, Dr. Sacco. We will carry on your work.