Among our driving purposes at Oregon Right to Life is our intention to help Oregon's pro-life community to be better connected to each other and better equipped to advocate for the vulnerable. That's why we hold our annual conference every year!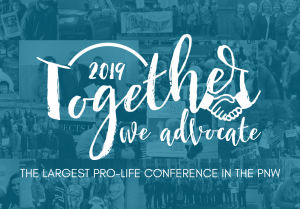 Together We Advocate 2019 is the largest pro-life conference in the Pacific Northwest. It will be held on April 6, from 8:30a-5:15p, at Rolling Hills Community Church in Tualatin. Early bird discounts end March 31. Currently, adult tickets are $40 ($50 April 1), students and seniors pay $30 ($35 April 1).
We're so excited about our featured speakers this year.
Josh Brahm of the Equal Rights Institute will help us learn how to best communicate our pro-life beliefs.
A foster care and adoption panel, anchored by Sarah Zagorski, is going to share their stories and how we can help!
Sibling duo Derrick and Julie Tennant will make us laugh while they talk about overcoming challenges.
We're also going to have twelve high-quality workshops to choose from (like "What You Don't Know About 'Death With Dignity' Could Kill You" and "So You Have Pro-Life Beliefs and a Job").
If you talk about the conference on social media, please include the hashtag #togetherweadvocate.
Admission includes lunch. Media can receive a press pass (lunch not included) by contacting our communications director here.