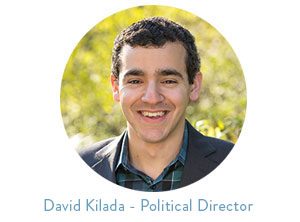 In Oregon, we've been blessed with decades of steady, wise leadership within the pro-life cause. Gayle Atteberry has been exemplary in her faithfulness to the movement and the innocents it exists to serve.
I first met Gayle when I worked for pro-life legislators in the Oregon State Capitol. I got to see firsthand her relentless lobbying for Oregon's most vulnerable. I'll never forget her encouraging smile and laughter in the darkest of political places in Oregon. Although I know firsthand that Lois, our new executive director, will do an amazing job, it's still hard to see Gayle retire after this organization has benefitted from her wise leadership for so long.
Sadly, we also recently said goodbye to another faithful leader in Oregon's pro-life movement. Nedora Counts, who has been an integral member of ORTL PAC since its creation over 35 years ago, passed away at the beginning of September. The significance of losing Nedora cannot be overstated. She served on our PAC board and in countless other ways, always contributing, even when it was a sacrifice. It's quite possible Nedora interviewed more candidates for office than anyone currently living in Oregon.
The main thing that was so inspiring about Gayle and Nedora's leadership was their commitment. They knew the pro-life cause is bigger than just one person. Although the faces of the pro-life movement necessarily change over time, the cause itself continues on. The work is not done. It is more important than any one person and should never be wrapped up in a single personality.
Knowing that, we continue our efforts in the PAC office. This issue is more critical than ever, as evidenced by the brutal legislative session this year. Oregon remains the most dangerous state for the unborn. Abortion is still legal until birth in this state. However, unborn babies aren't the only group needing advocacy. Powerful interest groups and politicians seem to always plot new ways to marginalize sick (SB 893) and incompetent people (SB 494).
Despite a legislature hostile towards life, there is great hope for us at ORTL. Together with supporters like you, we can build on the foundation laid by the great leaders before us. As the new political director, I have plenty of resources and lessons learned to help guide us, and our political team will continue to benefit from Lois' experience in that arena. ORTL is strong and well-positioned to win coming battles because servant leaders weren't looking to build a name for themselves, but rather a foundation from which victory can come.
The challenge for you and me is to follow in the footsteps of great leaders like Gayle, Nedora, and Lois. In our own ways, we need to advocate together for a cause that is bigger and more important than any one of us.