Oregon Right to Life will hold its annual Roe v. Wade Memorial Rally and Walk in a new Portland location, the Oregon Convention Center, on Sunday, January 15 at 2:30 p.m. This year's indoor rally insures attendees will be warm and dry. The Walk for Life will immediately follow the rally.
The rally will commemorate the forty-fourth anniversary of Roe v. Wade, the Supreme Court decision that legalized abortion throughout pregnancy. Since 1973, fifty-eight million American unborn babies have lost their lives through abortion.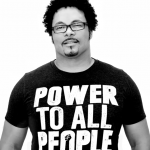 Our featured speaker will be Ryan Bomberger, an Emmy Award winner who spreads a life-affirming message through his organization, The Radiance Foundation. TRF has been praised by national pro-life leaders for its use of creative ad campaigns and multi-media presentations to illuminate a myriad of social issues in the context of God-given purpose.