Eighteen months after Roe v Wade became the law of the land, I was driving my lime-green Camaro across the country with my husband and two children under the age of one. With everything we owned in a 5×7 U-Haul trailer, we were leaving Michigan after years of undergrad and medical school in Ann Arbor for my husband's residency at OHSU in Portland.
Settling in the Tigard area, I soon learned about Oregon Right to Life (ORTL) through our church and attended my first meeting of the Southwest Portland chapter. It was a dedicated group of farmers, doctors, attorneys and teachers who had formed soon after Oregon legalized abortion in 1971. We were an optimistic bunch, thinking that surely the country would come to its senses and overturn Roe soon.
None of us could have imagined in 1973 what lay ahead over the next half-century or what God would call us to do.
Humbled by the dedication and compassion of those involved in ORTL, I was asked to move into public speaking, lobbying the Oregon legislature and, eventually, becoming executive director. As the years passed and Oregon continued its barbaric trend of increasing support for abortion, some of us wondered, "Why would God put us in Oregon of all places, to stand for life?" and "Will we live to see the day that Roe is overturned?" At National Right to Life conferences, when asked where we were from, we often evoked pity, prayers and sometimes hugs.
But we persevered. Inspired by the admonition in the book of James that "faith without works is dead," pro-lifers around the state continued to advocate for life through education, pregnancy support, lobbying, political action and, sometimes, peaceful civil disobedience. In 1978, a non-affiliated group staged the first sit-in of Lovejoy Surgicenter in Portland (now closed). While two dozen of us walked around the clinic singing and praying, three brave souls quietly walked through the doors and chained themselves to the operating tables. The killing stopped for a few precious hours.
Soon after becoming president of ORTL in 1980, I was invited to appear on AM Northwest. The thought of my first interview on live TV was nerve-wracking, but I eventually arrived at the studio, scared spitless and prepared to take the hot seat. Suddenly, an absolute peace came over me, and I realized that God had answered the pleas of all those sitting in their living rooms who had promised to pray.
And, finally, on June 24 of this year, two days before our 51st wedding anniversary, Roe was overturned! We hugged, we cried, and we called our friends who had worked in the pro-life movement all these years to rejoice.
How was this exercise in raw judicial power finally overturned? First, because of the dedication of pro-lifers who kept abortion front and center, never ceasing to advocate for the least among us, even in the face of discreditation, discrimination and, sometimes, violence. Second, because pro-life political activists held the Republican party's feet to the fire, over and over again, eventually resulting in a pro-life majority on the highest court in the land.
Of course, our work is far from over. Those of us who have toiled long over the preeminent moral issue of our time now look to a new generation of energized pro-life advocates. They are the ones who will continue to stand for life into the next century.
For those who continue the struggle in Oregon, perhaps the words of Mother Teresa will offer some solace: "God has called us not to be successful, but to be faithful." Godspeed!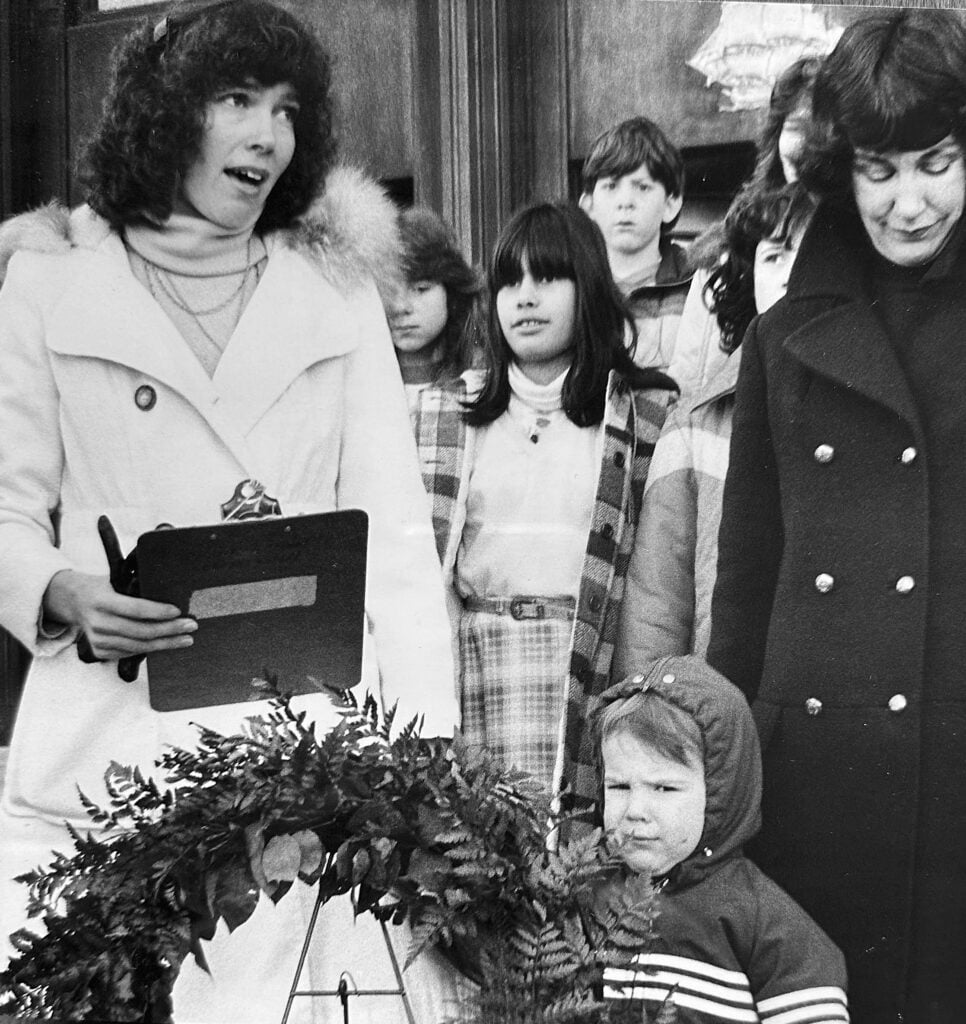 Lynda Harrington (left) laying a wreath for the unborn child at the Capitol in 1980