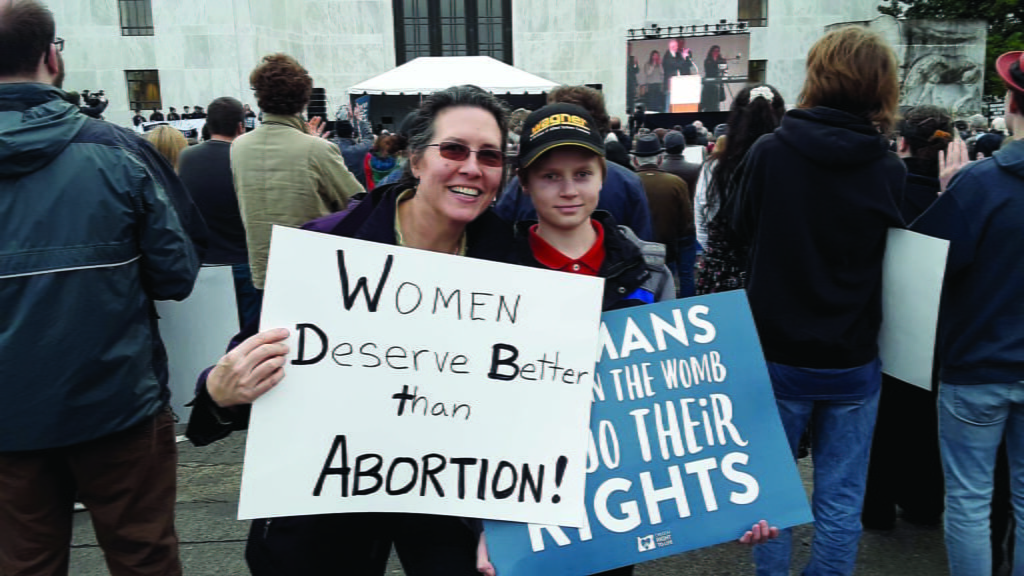 A lot of things have changed since 1975. But for Scotts Mills resident Susan Bielenberg, there has been at least one constant: Oregon Right to Life's (ORTL) annual March for Life rally held each January. Bielenberg has attended nearly every single one since the first rally — meant to commemorate Roe v Wade, the 1974 Supreme Court decision that legalized abortion through all nine months — was held 46 years ago.
"I was the fourth of eight kids, and we went to the rally every year as a family," Bielenberg says. "Some things about those early rallies are hard to remember. But I recall a lot of school buses from all over the state and a lot of people!"
Bielenberg and her siblings watched their parents, Val and Dolores Miller, set a consistent pro-life example at home. Dolores volunteered at Michael the Archangel, a pregnancy resource center in Salem, for over 25 years, in addition to helping Val with circulating pro-life petitions, calling legislators on behalf of the unborn, acting as a precinct person and working with ORTL. Bielenberg and her siblings have followed suit, coordinating ORTL's annual auction, participating in Life Chain events, praying in front of Planned Parenthood, serving on their church's Respect Life committee and getting signatures for petitions.
And attending the March for Life, of course. Now, Bielenberg goes with her husband Ed and sons Henry and Matthew.
"I think pro-life rallies are important for several reasons. They energize and encourage pro-life people, which makes us feel we aren't alone in very pro-abortion Oregon," she says. "We attend as a family, partly because we want our boys to know that this is a very important topic that is worth fighting for…The next generation needs to see this, just as my parents did for us in the 1970s and 1980s."
When the March resumes its normal in-person format, Bielenberg will be there. "Having a main rally is very important and unifying," she says.