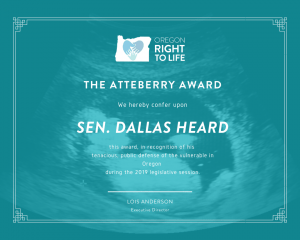 We are fortunate to have so many advocates fighting for life in the Oregon Legislature. This year we began a new tradition with the Atteberry Award. This award is named in honor of Gayle Atteberry, our long time former executive director who began her career as Oregon Right to Life's first full-time lobbyist in the Oregon Capitol. The award will be granted following each legislative session to members of the Oregon Legislature who, like Gayle, are tenacious in their public defense of Oregon's vulnerable.
Recipients of the 2019 Atteberry Award:
Senator Cliff Bentz, Senator Denyc Boles, Senator Brian Boquist, Senator Dallas Heard, Senator Tim Knopp, and Senator Dennis Linthicum.
Representative Cedric Hayden, Representative Mike McLane, Representative Mike Nearman, Representative Ron Noble, Representative Bill Post, Representative E. Werner Reschke, Representative Sherrie Sprenger, Representative Duane Stark, and Representative Carl Wilson.