The Center for Disease Control and Prevention just released their latest report on U.S. abortion numbers. While the data is not complete (Maryland, New Hampshire, and, most notably, California did not participate), the results are encouraging.
In 2015, the latest year for which data is available, abortion rates were at their lowest ever. The CDC reported 638,169 legal induced abortions which is almost half the U.S. abortion rate in 1980. The 2015 abortion rate was 11.8 abortions per 1,000 women aged 15–44 years, 188 abortions per 1,000 live births.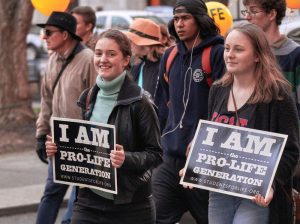 "This report demonstrates the effectiveness of the pro-life movement," says Lois Anderson, ORTL executive director. "Thanks largely to an increasing number of protective regulations, resources for women in need, and effective sidewalk counselors, women are choosing life more than ever before."
Here in Oregon, abortion rates largely match the national statistics. In 2005, there were 11,602 abortions in Oregon. Since then, with the exception of 2015 which was slightly higher than the year before, every year's abortion count was lower than the previous year. In 2015, there were 8,610 abortions of which 7,847 were had by resident Oregonians.
One number that has increased is the percentage of chemical abortions performed via RU-486. An abortion is forced by two drugs: mifepristone (which blocks progesterone and causes the death of the developing baby) and misoprostol (a labor induction drug). Between 2006 and 2015, chemical abortions increased by 114%. Between 2014 and 2015 alone, they increased 8%.
"The increase in RU-486 abortions is a good reminder that we need to continue to highlight the possibility of reversing the abortion pill," says Anderson. "Over 500 children are alive today after their mothers took steps to reverse mifepristone. Unlike surgical abortion, there is a window where we can help prevent a lifetime of regret."