On Saturday, January 19, starting at 2:30, in downtown's Pioneer Courthouse Square, Oregon Right to Life is holding its annual memorial and march in Portland. January 22 is the 45th anniversary of Roe v. Wade and Doe v. Bolton, the Supreme Court decisions that legalized abortion in America in 1973.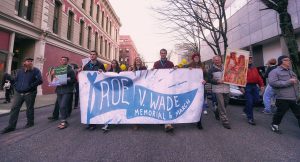 Lois Anderson, ORTL executive director: "Since the Roe v. Wade decision, sixty million lives have been prematurely and purposefully ended. There were approximately 8,000 abortions in Oregon last year alone. We will continue to advocate until all innocent life is protected from conception to natural death."
WHAT: 2019 Memorial and Oregon March for Life
WHEN: January 19, 2:30-3:30pm, March for Life immediately following.
WHERE: Pioneer Courthouse Square at 715 SW Morrison St
CONTACT: Liberty Pike at liberty at ortl.org